Handwritten Lyrics
A Note From dUg
"Hey everybody! Some of you may not know this about me but I LOVE to write. I have pretty good handwriting! So I thought it might be cool to hand write out lyrics to my songs for you guys. I posted on Facebook about it and got a ton of responses so I'm gonna do it. I want to make sure you guys understand that these will all be hand written by me, personalized to you and signed. No copies and no prints - all one of a kind. Obviously I can't sit and write all day everyday so there will be a limited number available. A lot of people have said they want to give lyrics as a gift so I will work extra hard as we're coming up on Christmas. You can choose from any song that I've written the lyrics to, including King's X, PoundHound, PGP, The Mob, Supershine, KXM, Tres Mts., Grinder Blues, and my solo work.
May the groove be with you!!! - dUg
Terms and Conditions
Each song will be $100 (plus S&H). It will be written out on black paper in white gel pen on black paper and personalized to the recipient and signed and dated by dUg. Each sheet will be a one-of-a-kind collectible piece - perfect for framing!
New Song Lyrics Now Available Include:
A Day Without Me
A Long Way From Home
Ain't That The Truth
Angel
Big As The Sun
Big Sky Country
Breakout
Burn
Calypso
Circle Of Dolls
Cold Sweats
Courage
Do it Now
Equally Divided
Everywhere Everywhere
Faith Is A Room
Flood
Give It Up
Gun Fight
Human Friction
I Can't Fight This Feeling
I'll Be Ok
If You Fuk Up
It's Never Enough
Jon Boy
Key Changer
Let It Rain
Lightning
Like A Wolf
Long Live Love
Love
Love And Fear
Making Sense Of The Bones
Mind Swamp
Never Stop
Noises in the Sky
Not a Single Word
Nothing But The Truth
Obsession
Panic Attack
Rescue Me
Scatterbrain
Shadow Lover
Slaves
Sleep
Social Distancing
Speeding Love
Stand
Stars
Swipe Up
That Great Big...
The Border
The Poison
Time Flies
Together
Tranquilize
True Deceivers
Twice
Vessel of Destruction
War of Words
What You Gonna Do?
Wide Awake

Plus:
All Grinder Blues Tracks
King's X Tracks as noted below
(*) NOTE: dUg will only provide handwritten lyrics for songs that he wrote the lyrics for. Here is the list of King's X songs that ARE NOT available:
All God's Children
Bitter Sweet
Black Flag
Burning Down
Charlie Sheen
Cigarettes
Complain
Dogman
Dream In My Life
Far Far Away
Festival
Flies and Blue Skies
Fool You
Freedom
Goldilox
Holidays
Honesty
I Don't Know
I Just Want To Live
In The New Age
It's Love
Legal Kill
Lies In The Sand
Life Going By
Lost In Germany
Mississippi Moon
Mr. Wilson
Not Just For The Dead
Ocean
Out of The Silent Planet
Pleiades
Prisoner
Repeating Myself Again
She Called Me Home
She's Gone Away
Silent Wind
Six Broken Soldiers
Summerland
Take The Time
The Difference
Train
Watcher
Place Your Order
Please read the U.S. and International Shipping information below before placing your order!
Shipping Information
IMPORTANT! Please read this shipping information before placing your order. In the U.S., lyrics are shipped via USPS. You can select rush shipping via FedEx in the United States for an additional $50 ($150 total). International shipping via FedEx is available for an additional $80 ($180 total).
Photos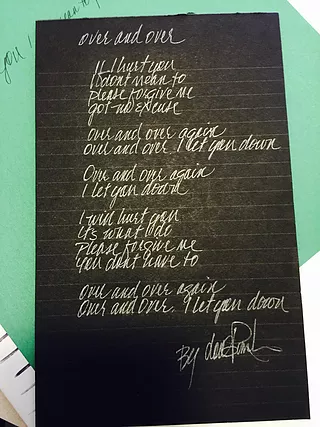 Please Note: Framed pieces are not available for sale. They are only an example of how the handwritten lyrics can be displayed.