Handwritten Lyrics
A Note From dUg
"Hey everybody! Some of you may not know this about me but I LOVE to write. I have pretty good handwriting! So I thought it might be cool to hand write out lyrics to my songs for you guys. I posted on Facebook about it and got a ton of responses so I'm gonna do it. I want to make sure you guys understand that these will all be hand written by me, personalized to you and signed. No copies and no prints - all one of a kind. Obviously I can't sit and write all day everyday so there will be a limited number available. A lot of people have said they want to give lyrics as a gift so I will work extra hard as we're coming up on Christmas. You can choose from any song that I've written the lyrics to (King's X, PoundHound, PGP, The Mob, etc).
So many of you have briefly shared stories about how these songs have affected you and your lives, and I love it! I thought it would be cool to share some of those stories on my website. If you'd like to participate, please email your story for your song to duglyrics@gmail.com. We'll feature a couple of stories each month.
All teenagers go through a hard time trying to figure out who they are. These kids have it even worse because of the lack of acceptance from friends and family, it really does a number on these kids and can put them at serious risk. I'm gonna be using a portion of the money from these lyrics to support a charity called the Trevor Project (www.thetrevorproject.org). The Trevor Project is the leading national organization providing crisis intervention and suicide prevention services to lesbian, gay, bisexual, transgender and questioning (LGBTQ) young people ages 13-24. So I want to thank you ahead of time for helping me to help them.
May the groove be with you!!! - dUg
Terms and Conditions
Each song will be $100 (plus S&H). It will be written out on black paper in silver or gold gel pen on black paper and personalized to the recipient and signed by dUg. Each sheet will be a one of a kind collectible piece - perfect for framing! We will be limiting the number of lyric sheets to 250 - each sheet will be individually numbered.
(*) NOTE: dUg will only provide handwritten lyrics for songs that he wrote the lyrics for. Here is the list of King's X songs that ARE NOT available:
Bitter Sweet
Black Flag
Burning Down
Cigarettes
Complain
Dogman
Dream In My Life
Far Far Away
Flies and Blue Skies
Fool You
Freedom
Goldilox
Honesty
I Don't Know
I Just Want To Live
In The New Age
It's Love
Legal Kill
Lies In The Sand
Life Going By
Lost In Germany
Mississippi Moon
Mr. Wilson
Not Just For The Dead
Ocean
Out of The Silent Planet
Pleiades
Prisoner
Repeating Myself Again
She's Gone Away
Silent Wind
Six Broken Soldiers
Summerland
The Difference
Train
Please read the U.S. and International Shipping information below before placing your order!
International Shipping
IMPORTANT ** International orders are dealt with on a case-by-case basis. Please email duglyrics@gmail.com with your mailing address and we will respond with your pricing.
U.S. Shipping
The lyrics will be shipped (domestically – continental USA) via USPS Priority Mail Express at a cost of $25. For an additional $20 we will FedEx your lyrics to you.
Place Your Order
Please read the U.S. and International Shipping information below before placing your order!
Shipping Information
IMPORTANT! Please read this shipping information before placing your order. In the U.S., lyrics are shipped USPS Priority Mail Express for $25. You may select FedEx for an additional $20. If you are outside of the United States, you must email duglyrics@gmail.com with your mailing address and we will respond with your shipping costs. Please do not place an order outside of the U.S. without getting your shipping cost first.
Photos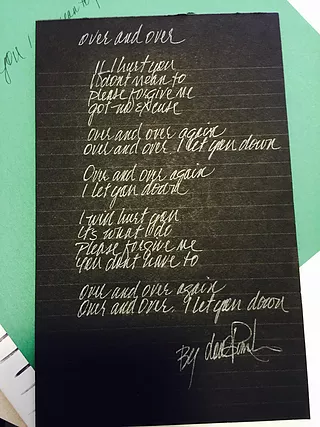 Please Note: Framed pieces are not available for sale. They are only an example of how the handwritten lyrics can be displayed.